Florida State / LSI / Our Centers / Center for International Studies in Educational Research and Development / 2013 CIES SOUTHEAST REGIONAL CONFERENCE
2013 CIES SOUTHEAST REGIONAL CONFERENCE
October 11-13
Florida State University & Comparative and International Education Society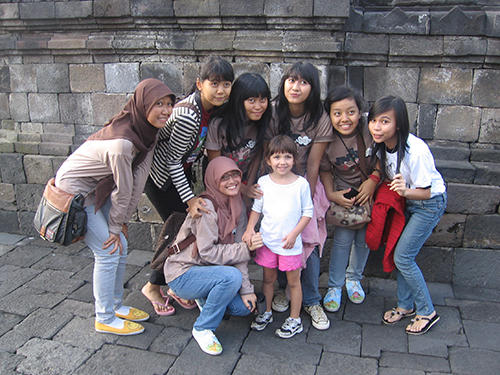 Sponsored by FSU's College of Education, the Learning Systems Institute's Center for International Studies in Educational Research and Development, the William A. Kerr Intercultural Education and Dialogue Initiative, the Center for Global Engagement, the Florida Network for Global Studies and the Comparative and International Education Society, the conference will gather scholars and development professionals from around the region and beyond.
PRESSING ISSUES
IN CONTEMPORARY
AND INTERNATIONAL EDUCATION
In meetings over three days at FSU's Augustus B. Turnbull Center, participants and presenters will explore the conference theme of "Pressing Issues in Contemporary and International Education," and the conference will conduct an open research colloquium on developing studies in two key topic areas:
Educational Reform in Muslim Societies.
The Fate of African School Dropouts.
In addition to papers on these issues, conference organizers welcome student and faculty presentations representing the full range of current research interests in comparative and international education, including:
Achieving equity in higher education.
Innovation in educational assessment in developing countries.
Civic education in comparative perspective.
Education and democratization in the Muslim world.
Post-conflict education.
Education of women and girls in Muslim societies in transition.
Literacy, economic development and political reform.
Factors contributing to school dropout.
Retention and uses of literacy among school leavers.
CONFERENCE PROGRAM NOW AVAILABLE
To get the program of the CIES Southeast Regional Conference, CLICK HERE.
For more on the theme of the 2013 CIES Southeast Regional Conference, CLICK HERE.
REGISTRATION — Online registration continues, or you can register in person at the conference.
LODGING — Florida State University has arranged for affordable lodging near the conference site.
KEYNOTE SPEAKERS — Dr. Daniel Wagner of the University of Pennsylvania and Dr. Yusny Saby of the Institut Agama Islam Negeri Ar-Raniry in Indonesia are the keynote speakers.
PRE-CONFERENCE RECEPTION AND DISCUSSION — We offer faculty colleagues from institutions throughout the Southeast this opportunity to enjoy a reception, share ideas and discuss how more effectively to promote comparative and international education in our region.
International Day of the Girl — "Girl Rising" — The feature film "Girl Rising" spotlights the stories of nine unforgettable girls born into unforgiving circumstances. The film captures their dreams, their voices and their remarkable lives.
The film and a discussion of its issues will open the CIES Southeast Regional Conference at 8 p.m. EST on October 11 — 2013's International Day of the Girl.
"Girl Rising" was directed by Academy Award­nominee Richard E. Robbins and is narrated by Cate Blanchett, Priyanka Chopra, Selena Gomez, Anne Hathaway, Salma Hayek, Alicia Keys, Chloë Moretz, Liam Neeson, Freida Pinto, Meryl Streep, and Kerry Washington.
Conference a success — watch the slideshow
More than 100 people took part in the The CIES Southeast Regional Conference, including a number of scholars from Africa, from the Mideast and Southeast Asia.
Here's a SLIDESHOW of the conference at Florida State University's Turnbull Center.
2013 CIES Southeast Regional Conference
Florida State University — October 11-13
Home
2013 CIES SOUTHEAST REGIONAL CONFERENCE